Gianni Coria – Founder and CEO of YELASAI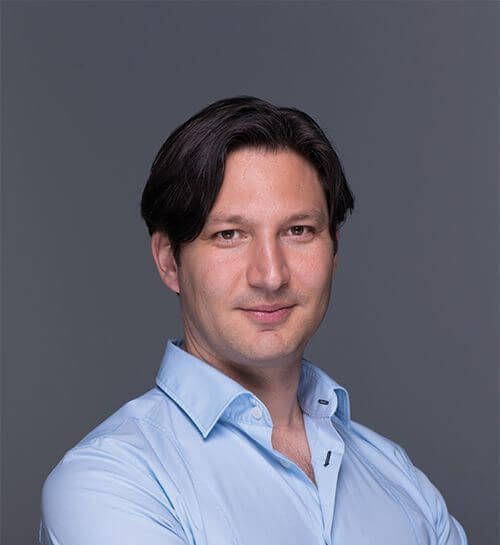 How I came up with the idea of ​​solving hair problems
Gianni Coria is the founder of YELASAI GmbH and inventor of the hair growth specialist.
In addition to my industrial career (assistant to the management of production and technology in a chemical company), I also ran a practice for deep psychological root cause research and people support as a part-time job. In 2009, a middle-aged customer came to see me because I was recommended to her for her problem with circular hair loss. Imagine that half of the head on the left side was without hair and the few hairs on the right side were used to cover up the large hair hole as best as possible. She was left completely alone with her hair problem.

No hairdresser wanted to dye her hair for fear that she would lose the rest of her hair.
She had tried all the classic solutions, but after several failed attempts, she was ultimately told that she would have to live with the hair problem and that there was no help for her. She was told it wasn't that bad, just a blemish.
I decided to help my customer and accompany her. I researched and pursued several approaches. With the combination of meridian point stimulation and the use of Ayurvedic products, we succeeded in reactivating your hair growth.
After 3 months the first small new hairs were visible
After just 8 months the hair hole was closed and after 1.5 years of support she had stronger hair than in her youth. Motivated by this result, my concept was successfully tested by hairdressers in Switzerland for a wide variety of hair problems. So I decided to spread the knowledge I had acquired and founded the network of the now internationally known and rapidly growing holistic concept of hair growth specialists .
Since February 2013, the network has been growing across countries through word-of-mouth advertising with many positive results.
Get honest and competent advice from your hair growth specialist and have your scalp professionally analyzed . Find out the reasons for your hair problem, benefit from my research and experiences and actively promote and revitalize your scalp .
Stay or become happy again with your own, originally natural, beautiful hair.
Your Gianni Coria
Author Gianni Coria – The book "Natural help for hair loss"
The knowledge of hair growth specialists includes:
→ Knowledge about the scalp, the breeding ground for well-growing, vital hair
→ Analysis of the different types of hair loss and their possible causes
→ holistic forms of therapy, tips and tricks for hair and scalp care
In this book you will learn basic knowledge about your hair and scalp. The various causes that can lead to scalp and hair problems and the numerous forms of therapy on the market with their advantages and disadvantages. By reading this book, Natural Help for Hair Loss, you will have more knowledge about the scalp and hair growth than a hairdresser today learns in their conventional training.
Find out why hair decreases with age or why hair can turn gray overnight. Learn to understand what can sustainably maintain beautiful hair or which path naturally leads to vital hair.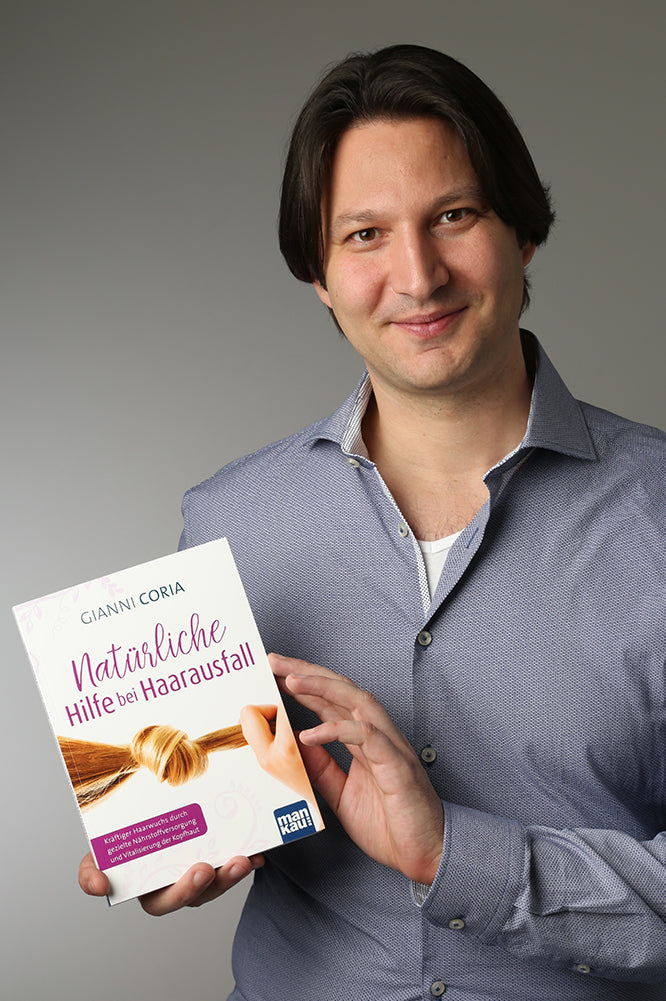 Strong hair growth through targeted nutrient supply and vitalization of the scalp
Hair loss has many causes: emotional, mental or physical stress, organic problems, chemotherapy, hormone administration, incorrect care or unsuitable nutrition as well as environmental pollution. According to statistics, 40 percent of men and 20 percent of women are affected by hair loss. The manifestations are different: thin hair, bald spots, receding hairline or complete baldness - everything from diffuse to circular to complete hair loss is possible.
In any case, those affected are significantly affected by the loss of hair. They are sad, uncertain, and sometimes desperate because the search for causes and solutions takes up a lot of energy, money and time or even remains in vain. Ultimately, the worries often lead to social withdrawal.
After intensive discussion of the millennia-old knowledge of Ayurveda and supplemented and supported by the latest scientific findings, the author has developed a comprehensive concept for vitalizing the scalp and hair care. By analyzing the scalp with a microcamera, making an individual diagnosis and stimulating hair growth with the help of natural products and massages, he helps those affected regain full, healthy hair. All that is required is patience and consistency.
Book: Natural help for hair loss
Regular price

$0.00

Selling price

$23.96