YELASAI - Natural care for hair loss
YELASAI - Natural care for hair loss
Natural ingredients
Supplemented with natural fermented herbs.
No synthetic substances
No fragrances, colors, flavors and preservatives.
Approved Nature
No hormones, nanoparticles or petroleum products.
Tested quality
Carefully manufactured and tested in Switzerland.
Our most popular products
Categories in overview
1. hair care

2. hair styling

3. skin care

4. food supplement

5. accessories

6. media & courses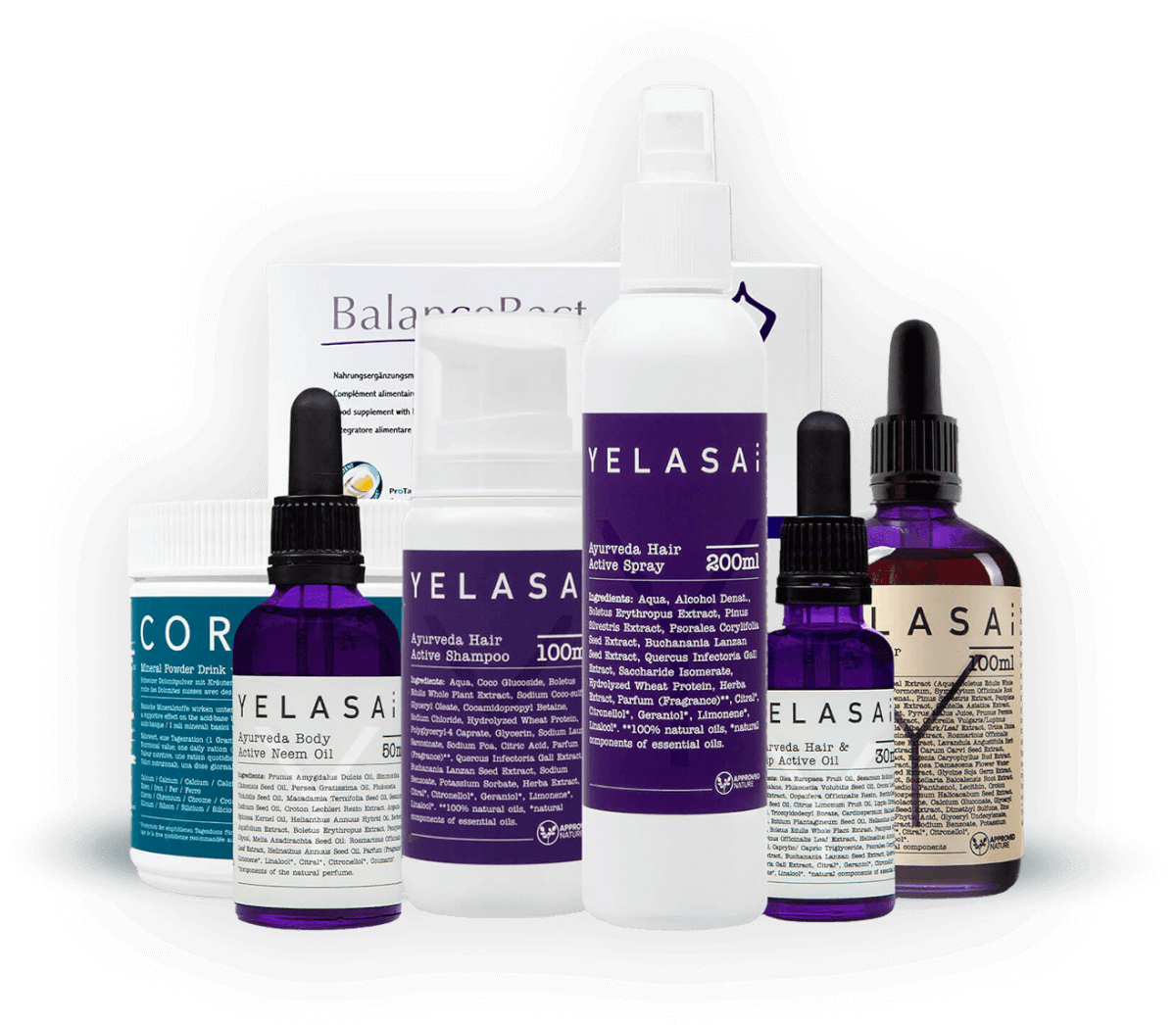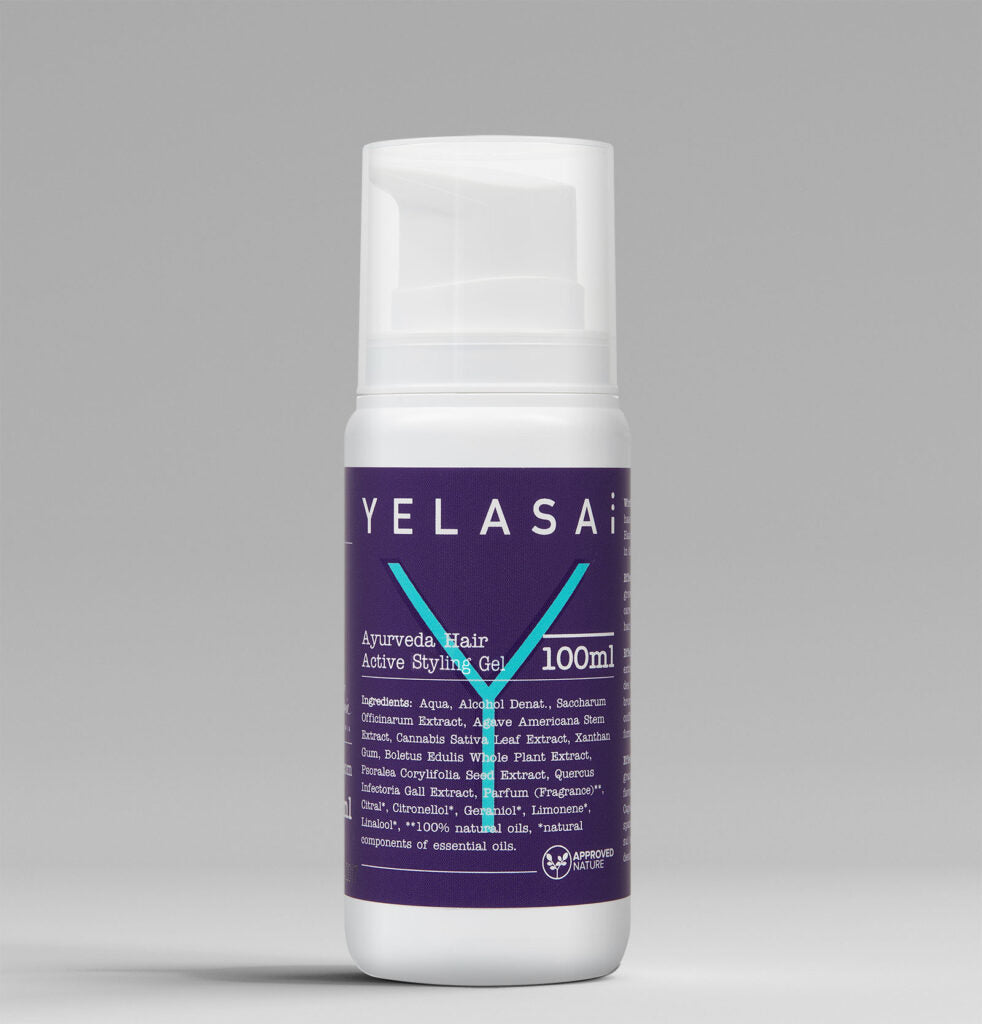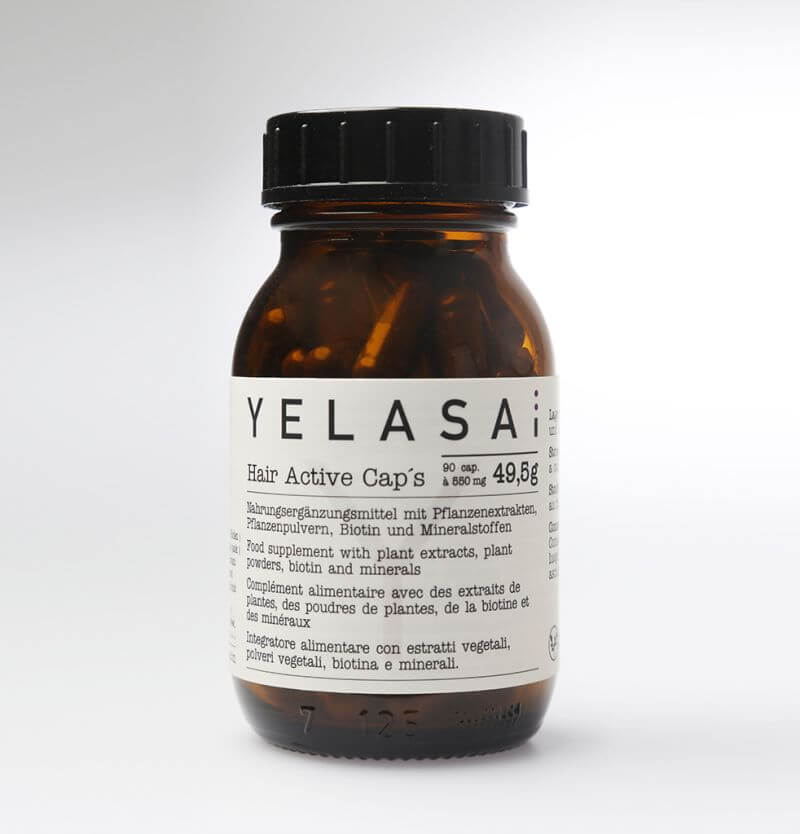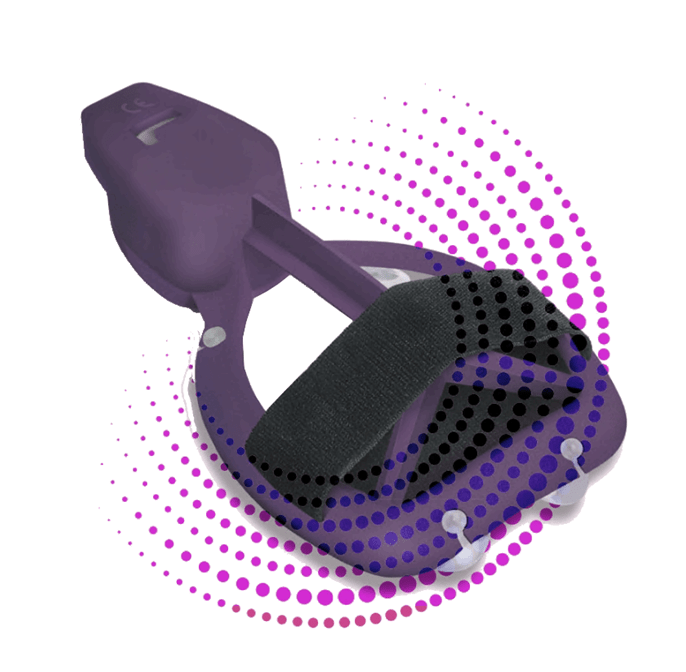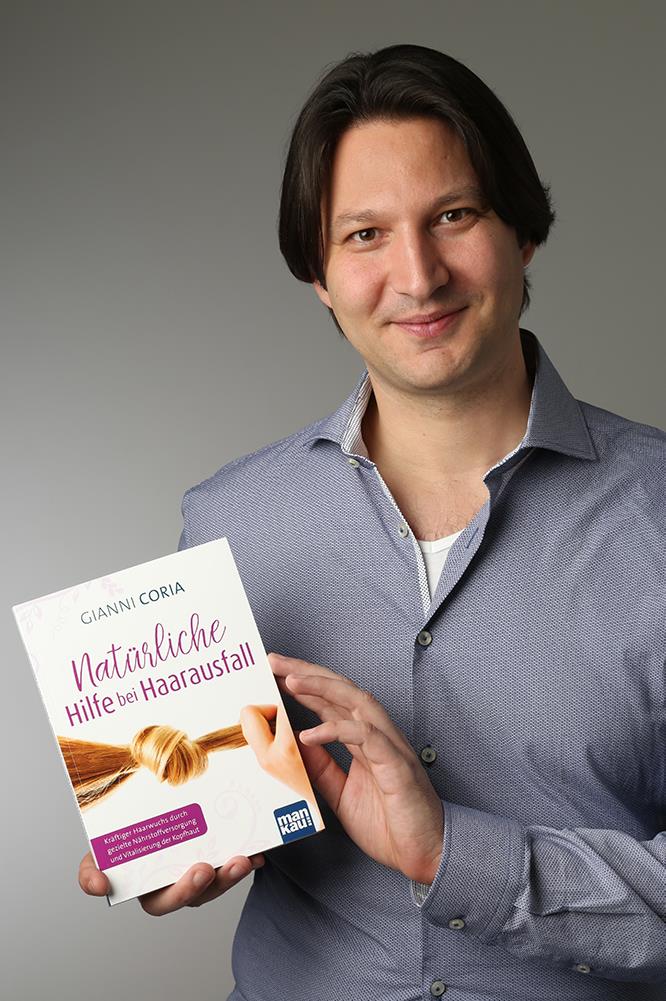 Founder Gianni Coria about YELASAI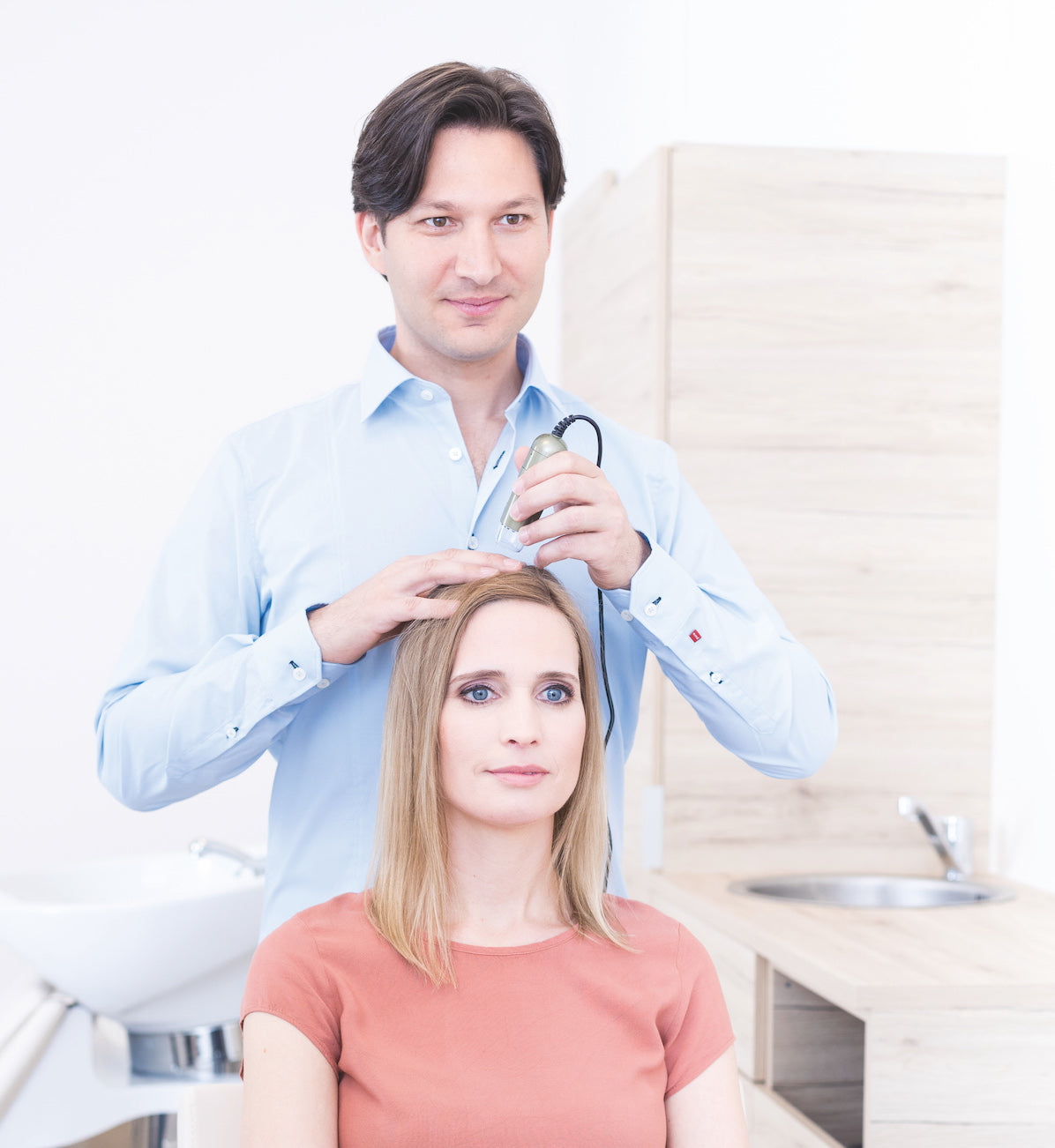 Hair growth specialists are there for you
Do you know the situation: you look in the mirror and the hair is getting less and less?
Not infrequently you are frustrated and have trouble getting out of the house. What can you do against hair loss? Probably you have already tried a few things and you are only moderately satisfied with the success. This has led me to develop a hair growth activation concept with its own care series, which stabilizes and promotes your hair growth in a completely natural way.
So that you are not alone with your hair problem, I have founded an international network of hair growth specialists. This means that experts are also available in your area for your personal consultation and professional support.
Your Gianni Coria

More about gianni coria
Male baldness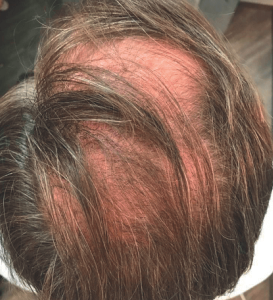 Result after 8 months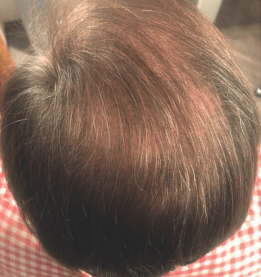 Natürliches Haarwuchsmittel – Schöne Haare hat jede:r verdient

Unsere Haare sagen sehr viel über die eigene Persönlichkeit aus, ob man es forciert oder nicht. Sind sie kurz oder lang, welche Frisur wird gewählt? Davon abgesehen lässt sich an ihnen auch der Gesundheitszustand einer Person ablesen, da sich ein bestimmter Mangel an Nährstoffen natürlich langfristig auch äußerlich abzeichnen kann. Ein natürliches Haarwuchsmittel unterstützt Sie bei Ihrer Reise zu wunderschönen Haaren. Denn eine Kombination aus einer gesunden Kopfhaut, den richtigen Inhaltsstoffen in unseren Pflegeprodukten und einem vitalen Inneren bietet die beste Grundlage für natürliches Haarwachstum. Unser natürliches Haarwuchsmittel begleitet Sie durch den Alltag und kann das gesunde Haarwachstum unterstützen.

Das natürliche Haarwuchsmittel von YELASAI verbindet unterschiedliche Vorteile, die Ihr Haarwachstum mit der Kraft der Natur fördern können. Dafür werden natürliche Inhaltsstoffe wie fermentierte Kräuter verwendet. In der innovativen Zusammensetzung nutzen wir keine synthetischen Stoffe oder Duft-, Farb-, Aroma- oder Konservierungsstoffe. Ein effektives Mittel, um das Haarwachstum anzuregen, braucht diese Inhaltsstoffe nämlich nicht notwendigerweise. Das natürliche Haarwuchsmittel von Ihrem neuen Hair Active Expert YELASAI enthält keine Hormone, Nanopartikel oder Erdölprodukte.

Styling und Haarwachstum anregen – unser natürliches Haarwuchsmittel kaufen

Ein Mittel für schnelleren Haarwuchs und das sogar für das tägliche Styling? Kein Problem für Ihren Haarwuchs-Spezialisten! Nicht nur die Pflege ist wichtig, denn auch in herkömmlichen Haarstyling-Produkten befinden sich oftmals Inhaltsstoffe, die dem Haar langfristig eher schaden als nützen. Wir bieten Ihnen ein Hair Active Styling Gel und ein Hair Active Styling Spray – komplett auf Ihre individuellen Bedürfnisse zugeschnitten. Das natürliche Haar Gel mit Kräutern ist nicht nur der perfekte tägliche Begleiter für eine optimale Pflege, sondern unterstützt währenddessen sogar Ihren Haarwuchs. Das Nützliche und das Schöne sind durch unsere Styling-Produkte für Sie verbunden! In Kombination mit den YELASAI Ayurveda Haarpflege-Produkten kann es einen positiven Effekt auf Ihre Haare haben.

Haarwuchs anregen: mit allen Mitteln

Die Kombination aus den richtigen Nährstoffen, einem möglichen Nahrungsergänzungsmittel für die Haare und einem natürlichen Haarwuchsmittel in Form eines Shampoos und nicht schädigende Styling-Produkte unterstützen das Haarwachstum auf unterschiedlichen Ebenen! Damit das Stylen noch einfacher ist: Unser Haargel kann spielend leicht in die Haare geknetet und genauso unproblematisch ausgebürstet werden. Oftmals sind Styling-Produkte sehr widerspenstig, wenn es darum geht, sie ohne eine Haarwäsche zu entfernen. Bei uns jedoch nicht!

Abgesehen davon ist es möglich, das Styling-Gel mithilfe von etwas Feuchtigkeit neu zu modellieren. Ebenfalls ein großer Vorteil, da man nicht noch mehr Produkt verwenden muss und flexibel bleibt. Dieses Problem haben Sie dank der natürlichen Inhaltsstoffe unserer YELASAI Haarpflege-Produkte nicht mehr – ein wirksames Haarwuchsmittel für Frauen und Männer. Unsere Styling-Produkte sind für Kinder, Jugendliche und Erwachsene geeignet. Auch verschiedene Haartypen stellen kein Hindernis dar, denn sowohl kurze, lange als auch gewellte Haare können damit perfekt gestylt werden. Ein natürliches Haarwuchsmittel, das für die ganze Familie geeignet ist.

Haarwachstum anregen – natürlich und mit Ihren eigenen Händen

Ein natürliches Haarwuchsmittel, das regelmäßig angewendet wird, kann das Haarwachstum unterstützen. Aber es gibt darüber hinaus noch weitere Möglichkeiten, das individuelle und natürliche Wachstum der Haare anzuregen. In Kombination mit unseren YELASAI-Produkten ist ein weiteres Mittel zur Förderung von schnellerem Haarwuchs eine Massage der Kopfhaut. Durch den leichten mechanischen Reiz wird die Durchblutung angeregt und somit das Haarwachstum gefördert. Dies kann man jeden Tag für einige Minuten durchführen, unabhängig von der Haarwäsche. Beispielsweise nach dem Aufwachen oder abends auf der Couch. Hierbei gilt es besonders sanft zu massieren und die Massage idealerweise selbst durchzuführen, da man selbst den Druck am besten regulieren kann.

Diese Art der Massage kann sich nicht nur positiv auf das Haarwachstum auswirken, sondern bietet zusätzlich eine entspannende Wirkung. In Kombination mit der Verwendung des besten Haarwuchsmittels tun Sie Kopfhaut und Haaren etwas Gutes. Wie immer gilt jedoch: Man muss konsequent sein. Unser natürliches Haarwuchsmittel unterstützt Sie mit ausgewählten Inhaltsstoffen auf dem Weg zu natürlich vollem Haar, ohne aggressive Zusätze.

Ein natürliches Haarwuchsmittel, das für jede:n geeignet ist

Haarausfall kann diverse Gründe haben und jede:n betreffen. Nicht nur Frauen, sondern auch viele Männer sind auf der Suche nach einem Mittel, das den Haarwuchs anregt. Wir haben ein natürliches Haarwuchsmittel kreiert, das genauso gut von Männern wie Frauen verwendet werden kann. Natürliche Haarwuchsmittel können auch für Kinder eine Rolle spielen, wenn man als Kind aufgrund unterschiedlichster Gründe unter Haarausfall leidet. Besonders in diesem Fall ist die richtige Kombination aus Inhaltsstoffen wichtig.

YELASAI hat es sich zur Aufgabe gemacht, ein natürliches Haarwuchsmittel anzubieten, dass bei unterschiedlichen Gründen des verminderten Haarwuchses fördernd wirken kann. Wir bieten sogar natürliche Haarwuchsmittel an, die bei Haarausfall infolge einer Chemotherapie verwendet werden können. Darüber hinaus finden Sie bei uns ein wirksames Haarwuchsmittel für Männer, das bei Geheimratsecken genutzt werden kann. Außerdem ein Mittel für Haarwachstum, das bei frühem Haarausfall für Unterstützung sorgt.

Unser natürliches Haarwuchsmittel ist für jedes Alter geeignet – so kann jede:r von den Vorteilen ayurvedischer Kräuter profitieren. YELASAI unterstützt Sie auf dem Weg zu einer natürlich schönen Haarpracht. 

Natürliches Haarwuchsmittel ohne Hormone

Hormone werden oftmals in Wimpernseren und Haarwuchsmitteln verwendet. Diese sollen das Haarwachstum anregen. Hierbei handelt es sich allerdings nicht um ein natürliches Haarwuchsmittel. Hormone regulieren so gut wie alles in unserem Körper, es handelt sich um Botenstoffe, die innerhalb unseres Körpers miteinander kommunizieren. Bereits kleine Schwankungen können größere Folgen nach sich ziehen, als man auf den ersten Blick vermuten mag.

Hier gilt es also, besondere Vorsicht walten zu lassen, da man nie weiß, wie solche Präparate langfristig wirken. Die in Kosmetika enthaltenen Hormone werden unter anderem endokrine Disruptoren genannt. Darunter fallen allerdings nicht nur Kosmetika im herkömmlichen Sinne, sondern auch Haarshampoos. Unser natürliches Haarwuchsmittel kommt ohne jegliche Hormone aus. Wir bieten Ihnen eins der besten Haarwuchsmittel, wenn Sie auf die Kraft von natürlichen Inhaltsstoffen vertrauen möchten.