SKU: 20710
CORIALITH - Drink 30 days
Regular price

$0.00

Selling price

$28.80
Base drink from minerals
Micronized dolomite powder and herbs with calcium, chromium, iron and silicon.
Also suitable for children
Available immediately. In 1-3 days at your home.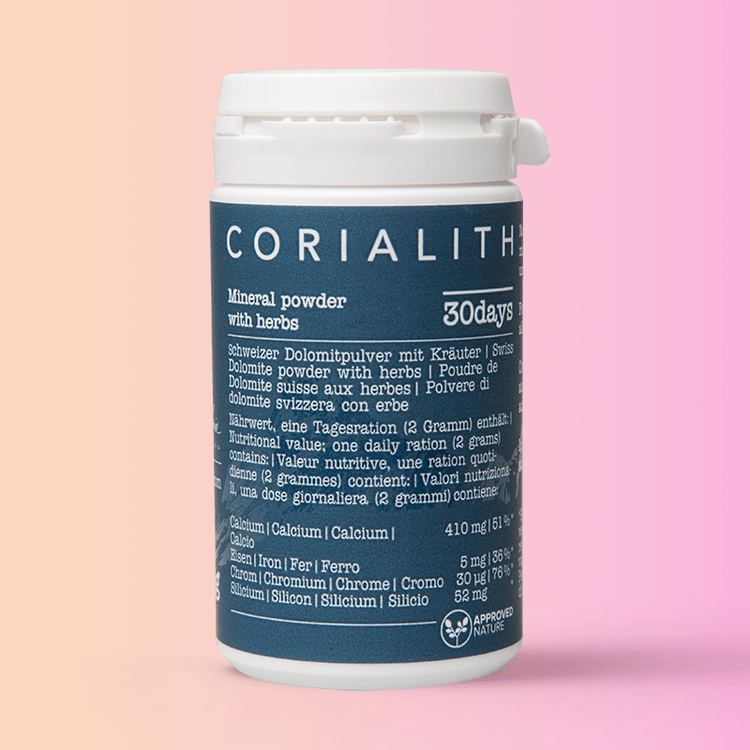 Hair types:
Kids
Short hair
Long hair
Hair problems:
Acne, Incipient hair loss, Chemotherapy, Thin and fine hair, Inflammatory scalp, Oily hair
General information
Description

Many generations before us, people discovered the mineral-rich water from the streams of the glacier regions for themselves. They figuratively called the water, which was interspersed with the finest rock particles and thus slightly gray in color, "glacier milk".

CORIALITH is the dried form of this glacier milk and we have additionally refined the Swiss dolomite rock powder with herbs and seeds. CORIALITH is a pure, natural and basic primary rock powder made from micronized Swiss dolomite rock, supplemented with seeds and herbs, which is ground to an average particle size of 6 micrometers in a special grinding and mixing process. This gives CORIALITH a surface area of about 118 m2/g (for comparison, rock powders usually have a surface area of about 6 m2/g).

With a pH value of 8.5, CORIALITH has a basic effect.
Application

Recommended daily ration: Dissolve 2 scoops (2 grams) in a shaker with 2-3 dl of water and drink. Or drink one scoop in the morning and one scoop in the evening mixed with 2-3 dl of water. Do not mix with metal spoon, but with plastic or wooden spoon. Do not use metal shaker (metal inhibits ionization). Drink enough water! About 1 liter per 25kg of body weight. Can lasts 30 days with normal use. Swiss dolomite powder with herbs Nutritional value, one daily ration (2 grams) contains: Calcium 410 mg 51 % * Iron 5 mg 36 % * Chromium 30 µg 76 % * Silicon 52 mg 26 % * *Percentage of the recommended daily dose for adults. Keep out of reach of children. Do not exceed the recommended daily dose. Food supplements should not be used as a substitute for a varied diet and a healthy lifestyle. Store the product in a dry and cool place.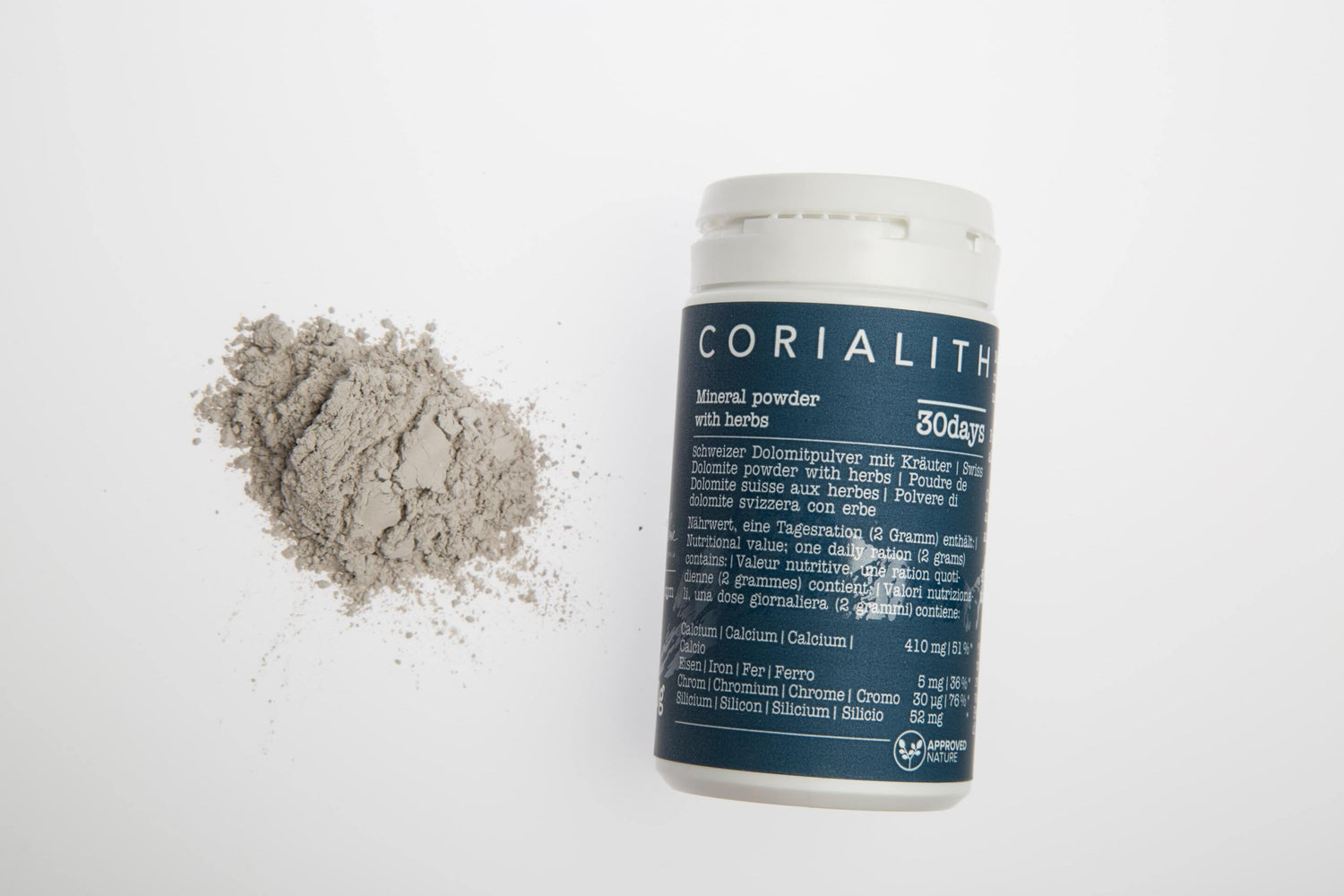 CORIALITH - Drink 30 days
CORIALITH 30days contains minerals and trace elements such as calcium, iron, silicon and chromium, as well as psyllium powder, fennel seed powder, fenugreek powder, nettle seed powder, maqui berry powder, baobab and bamboo fiber.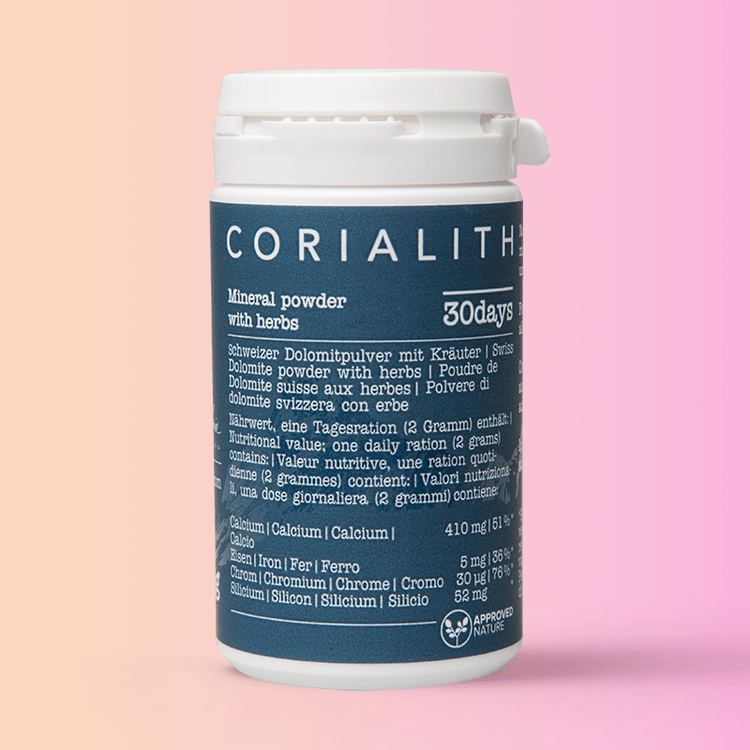 Features of all YELASAI products
Natural ingredients
Supplemented with natural fermented herbs.
No synthetic substances
No fragrances, colors, flavors and preservatives.
Harmless to health
No hormones, nanoparticles or petroleum products.
Swiss quality
Carefully manufactured and tested in Switzerland.
Frequently asked questions
FOR WHICH HAIR TYPES IS THE PRODUCT SUITABLE?

Our Corialith Drink 30 days is suitable for children, young people and adults.
FOR WHICH PROBLEMS DO WE RECOMMEND THE CARE PRODUCT?

Corialith Drink 30days is a nutritional supplement and can be taken by anyone mixed with water. People with hair loss or other senile hair and skin issues can also enjoy Corialith Drink 30 days without restrictions.
WHAT ARE THE APPLICATIONS OF THE PRODUCT?

We recommend Corialith Drink 30 days in the morning after getting up and/or in the evening before going to bed. People who prefer to drink Corialith Drink 30 days throughout the day, mix 2 spoons of Corialith Drink in a liter bottle of water. Always shake before consumption and drink only then.