SKU: 1052
Basic set for short hair with wild boar brush
Regular price

Selling price

$62.42
Available immediately. At your home in 1-3 days.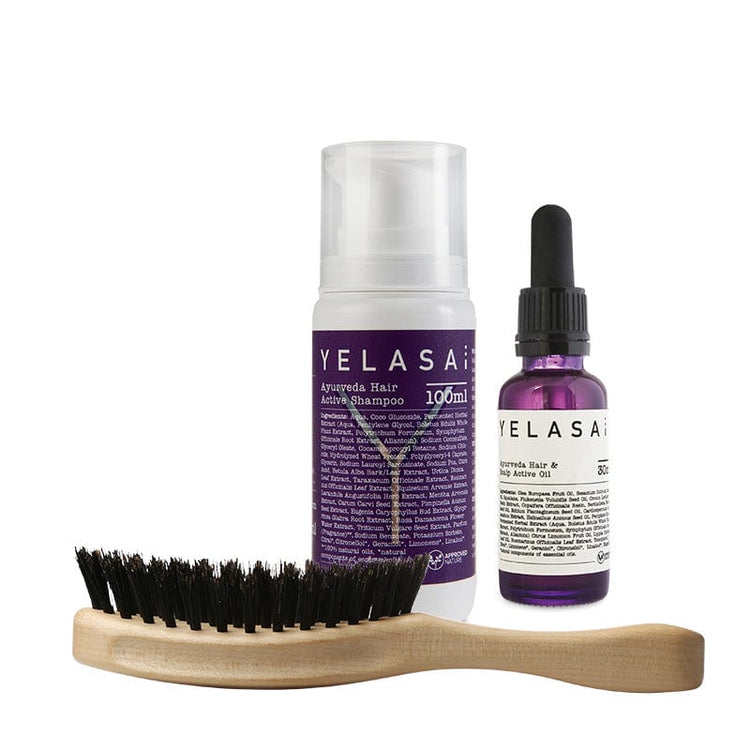 General information
Description

Taking care of your scalp and hair is just as important as brushing your teeth every day. Our scalp needs regular care with oils to effectively cleanse the oils secreted through the scalp and maintain the balance of the scalp.

With our brush, which is specially adapted to the needs of the scalp, you can effectively clean your scalp every day and promote its vitality. Our mild scalp shampoo provides thorough cleansing and leaves it feeling fresh and invigorating.

Don't forget, caring for your scalp is an important step towards healthy and shiny hair. Start our dedicated scalp care routine today and experience the difference.

Ayurveda Hair Active Shampoo

Start your hair care routine with our mild scalp shampoo. It cleanses your hair gently and thoroughly, removing residues of old shampoos, silicones, sebum and grease and leaving it feeling fresh and clean.

Our natural scalp shampoo not only provides a thorough cleanse, but also conditions your hair so it feels smoother. The gentle formulation is also suitable for sensitive scalps and cleanses it gently without drying it out.

The best part? Our Ayurveda Hair Active Shampoo is so mild that it is also ideal for your children's hair care. Pamper the whole family with the nourishing power of our shampoo and enjoy healthy-looking, radiant hair.

Ayurveda Hair Active Oil

Prepare your hair optimally for washing by applying our scalp oil to the scalp the evening before. This nourishing oil nourishes your skin overnight and prepares it for shampooing in the morning.

Our Ayurvedic scalp oil is also ideal for dry, itchy or tense scalps. It helps to improve the elasticity of the scalp and contributes to a relaxed skin feeling.

Boar bristle brush in a travel set

Our natural hair brush is your perfect companion for optimal scalp and hair care. Equipped with high-quality boar bristles on a curved brush body, it offers excellent care for your hair and scalp.

The brush, with its ergonomic shape, sits comfortably in the hand and its curved shape ensures optimal contact with your scalp. It cares for your hair with every brush stroke, thanks to the natural bristles with bristle ends of different lengths. These clean and care for the scalp and hair intensively, massage the scalp thoroughly, promote blood circulation and give your hair suppleness.

The natural bristles absorb excess fat and nutrients from the scalp and distribute them evenly over the entire length of the hair. In doing so, they loosen deposits caused by sebum and sweat (mineral salts) from the scalp and distribute them to the ends of the hair. This causes the hair scales to close, maintaining your hair's natural health, suppleness and shine. For optimal results we recommend daily use.
Application

Ayurveda Hair Active Shampoo 100ml:
For short hair ½ stroke shampoo undiluted, for long hair 1 stroke diluted in 50 - 60 ml of water, spread on damp scalp and rub in gently. Leave on for 1 - 2 minutes, then rinse with clean water. Try to wash the hair only every other day or 1 - 2 times a week to support the optimal effect of Ayurveda Hair Active Tonic. The Hair Active Shampoo is also recommended for showering or washing as a substitute for conventional shower gels and soaps. The Hair Active Shampoo is very mild and therefore also suitable for children.

Ayurveda Hair & Scalp Active Oil 30ml:
Use for hair care or dry scalp, dandruff and excessive greasiness. If possible, in the evening before shampooing, apply a few drops to the sensitive areas on the scalp and massage gently or dampen the hair with a slightly wet comb and then distribute Hair & Scalp Active Oil from the scalp to the ends of the hair. Leave on for about 3 hours or overnight and wash out the next morning with Hair Active Shampoo.


Ingredients

Ayurveda Hair Active Shampoo 100ml:
0

Ayurveda Hair & Scalp Active Oil 30ml:
Olea Europaea Fruit Oil, Sesamum Indicum Seed Oil, Squalane, Plukenetia Volubilis Seed Oil, Croton Lechleri Resin Extract, Copaifera Officinalis Resin, Bertholletia Excelsa Seed Oil, Echium Plantagineum Seed Oil, Cardiospermum Halicacabum Extract, Helinathus Annuus Seed Oil, Pentylene Glycol, Fermented Herbal Extract (Aqua, Boletus Edulis Whole Plant Extract, Polytrichum Formosum, Symphytum Officinale Root Extract, Allantoin) Citrus Limonum Fruit Oil, Lippia Citriodora Leaf Oil, Rosmarinus Officinalis Leaf Extract, Tocopherol, Citral, Limonene, Geraniol, Citronellol, Linalool, Eugenol. *natural components of essential oils.


Features of all YELASAI products
Natural ingredients
Supplemented with natural fermented herbs.
No synthetic materials
No fragrances, colors, flavors or preservatives.
No risk to health
No hormones, nanoparticles or petroleum products.
Swiss quality
Carefully manufactured and tested in Switzerland.
frequently asked Questions