SKU: 1054
Basic set for long hair with wooden pencil brush
Regular price

Selling price

$142.04
Available immediately. At your home in 1-3 days.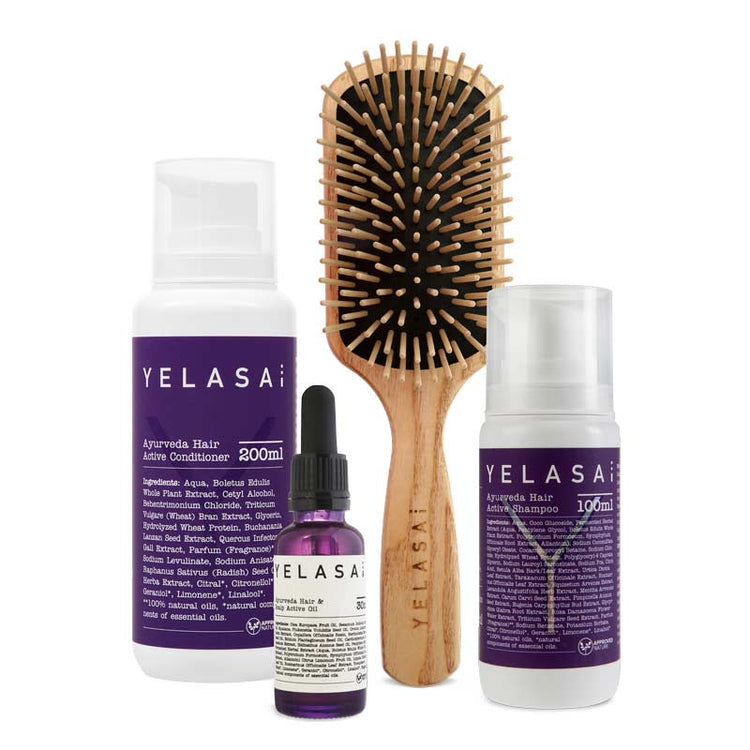 General information
Description

Taking care of your scalp and hair is just as important as daily dental care. With the regular use of specific oils, you can efficiently cleanse the natural oils that your scalp secretes and maintain the balance of your scalp.

Our specially developed scalp brush enables thorough daily cleansing and strengthens the vitality of your scalp. This care is complemented by our gentle scalp shampoo, which deeply cleanses and leaves a refreshing feeling.

Don't forget that proper scalp care is the key to healthy, shiny hair. Start our customized scalp care routine today and experience the positive difference.

Ayurveda Hair Active Shampoo

Start your hair care routine with our Ayurveda Hair Active Shampoo, specially designed to gently cleanse your hair while removing residue from old shampoos, silicones, sebum and grease. It leaves a feeling of freshness and cleanliness that you will love.

However, our natural scalp shampoo goes beyond simple cleansing. It intensively nourishes your hair, making it look and feel smoother and healthier. The gentle formulation is particularly suitable for sensitive scalps and cleanses it gently without drying it out.

The highlight? Our Ayurveda Hair Active Shampoo is so mild and gentle that it is also ideal for your children's hair care. Pamper your whole family with the nourishing effects of our shampoo and enjoy healthy, radiant hair that simply looks and feels good.

Ayurveda Hair Active Conditioner

Let yourself be inspired by our Ayurvedic Conditioner - your natural choice for shiny, voluminous and easy-to-style hair. This conditioner completely eliminates the use of silicones and instead relies on the wonders of nature to intensively nourish your hair and give it a healthy shine.

Our gentle nutritional care pampers your hair, makes it supple and lets it shine. It helps to reduce hair loss caused by hair breakage and pulling and thus promotes vital hair growth. Give your hair more volume with our Ayurvedic conditioner and experience the ease of combing. Discover the natural beauty of your hair and enjoy its vitality.

Ayurveda Hair Active Oil

Optimize your hair care routine with our Ayurvedic scalp oil. It is ideal to apply in the evening before bed so that it can work overnight and provide your skin with essential nutrients. This is how you optimally prepare your scalp for washing your hair the next morning.

Our Ayurveda scalp oil is more than just nourishing care. It is an effective care solution even for dry, itchy or tense scalps. It promotes the elasticity of the skin and ensures that the skin feels relaxed and healthy. Start your individual care routine with our Ayurveda scalp oil and experience the remarkable difference.

Wooden pencil hairbrush

Our exclusive, handcrafted hairbrush made from FSC-certified ash wood is a masterpiece of quality and sustainability. With its dimensions of 22 x 6.5 cm and an antistatic effect, it is perfect for daily hair care. The handle, carefully treated with linseed oil and vegetable carnauba wax, gives the brush a natural shine and longevity. The pens, embedded in an air cushion made of natural rubber, are made from FSC-certified hornbeam and ensure a gentle brushing experience.

Regardless of whether your scalp is sensitive or your hair is fine, normal, thick or wavy, this ash wood brush offers ideal care for all hair types. It is not only perfect for quickly styling or brushing your hair, but also for a conscious scalp massage. With our natural brush your hair care will be a pleasant experience.
Application

Ayurveda Hair Active Shampoo 100ml:
For short hair ½ stroke shampoo undiluted, for long hair 1 stroke diluted in 50 - 60 ml of water, spread on damp scalp and rub in gently. Leave on for 1 - 2 minutes, then rinse with clean water. Try to wash the hair only every other day or 1 - 2 times a week to support the optimal effect of Ayurveda Hair Active Tonic. The Hair Active Shampoo is also recommended for showering or washing as a substitute for conventional shower gels and soaps. The Hair Active Shampoo is very mild and therefore also suitable for children.

Ayurveda Hair Active Conditioner 200ml:
For short hair apply ½ stroke Care undiluted, for long hair 1 stroke diluted in 50 - 60 ml of water into the still damp hair, massage gently, comb through gently and leave on for about 1 - 2 minutes, then rinse well. For thin hair, rinse out immediately. Watch your hair, your hair become heavier by the application your hair absorb many nutrients. The next time you wash your hair, shorten the application time.

Ayurveda Hair & Scalp Active Oil 30ml:
Use for hair care or dry scalp, dandruff and excessive greasiness. If possible, in the evening before shampooing, apply a few drops to the sensitive areas on the scalp and massage gently or dampen the hair with a slightly wet comb and then distribute Hair & Scalp Active Oil from the scalp to the ends of the hair. Leave on for about 3 hours or overnight and wash out the next morning with Hair Active Shampoo.

Wooden pencil brush YELASAI:



Ingredients

Ayurveda Hair Active Shampoo 100ml:
0

Ayurveda Hair Active Conditioner 200ml:
0

Ayurveda Hair & Scalp Active Oil 30ml:
Olea Europaea Fruit Oil, Sesamum Indicum Seed Oil, Squalane, Plukenetia Volubilis Seed Oil, Croton Lechleri Resin Extract, Copaifera Officinalis Resin, Bertholletia Excelsa Seed Oil, Echium Plantagineum Seed Oil, Cardiospermum Halicacabum Extract, Helinathus Annuus Seed Oil, Pentylene Glycol, Fermented Herbal Extract (Aqua, Boletus Edulis Whole Plant Extract, Polytrichum Formosum, Symphytum Officinale Root Extract, Allantoin) Citrus Limonum Fruit Oil, Lippia Citriodora Leaf Oil, Rosmarinus Officinalis Leaf Extract, Tocopherol, Citral, Limonene, Geraniol, Citronellol, Linalool, Eugenol. *natural components of essential oils.

Wooden pencil brush YELASAI: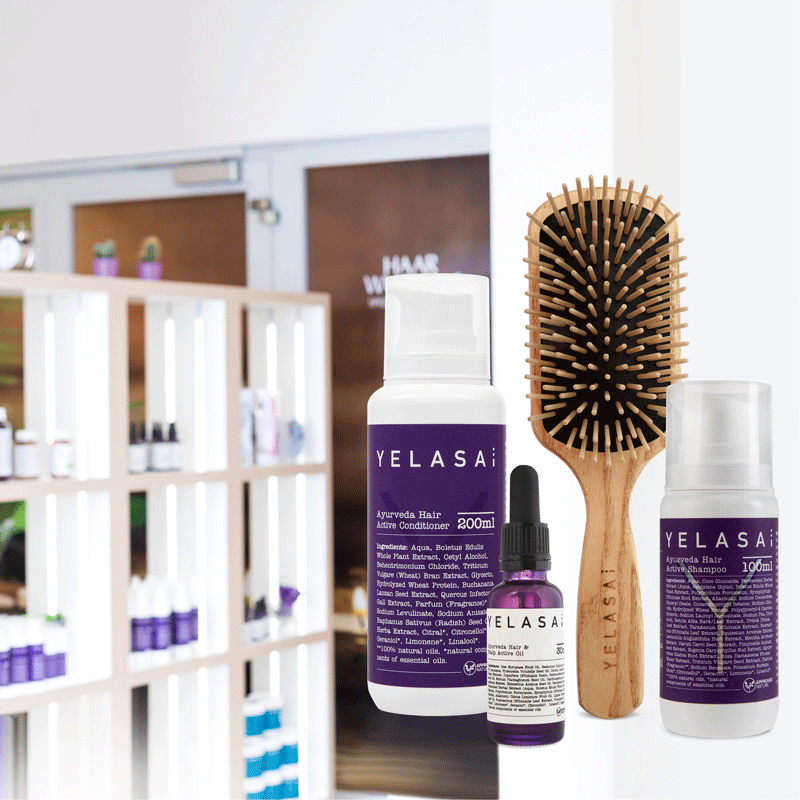 Basic set for long hair with wooden pencil brush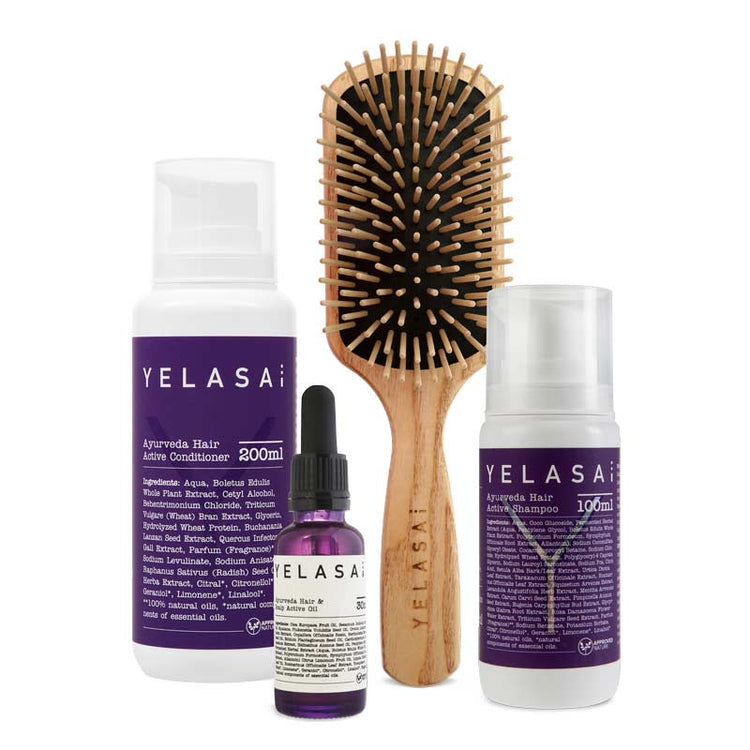 Features of all YELASAI products
Natural ingredients
Supplemented with natural fermented herbs.
No synthetic materials
No fragrances, colors, flavors or preservatives.
No risk to health
No hormones, nanoparticles or petroleum products.
Swiss quality
Carefully manufactured and tested in Switzerland.
frequently asked Questions