SKU: 1002
Hair care even with dandruff - Short hair
Regular price

Selling price

$62.81
Approved Nature
Care for dandruff and greasy hair
For short hair
Available immediately. At your home in 1-3 days.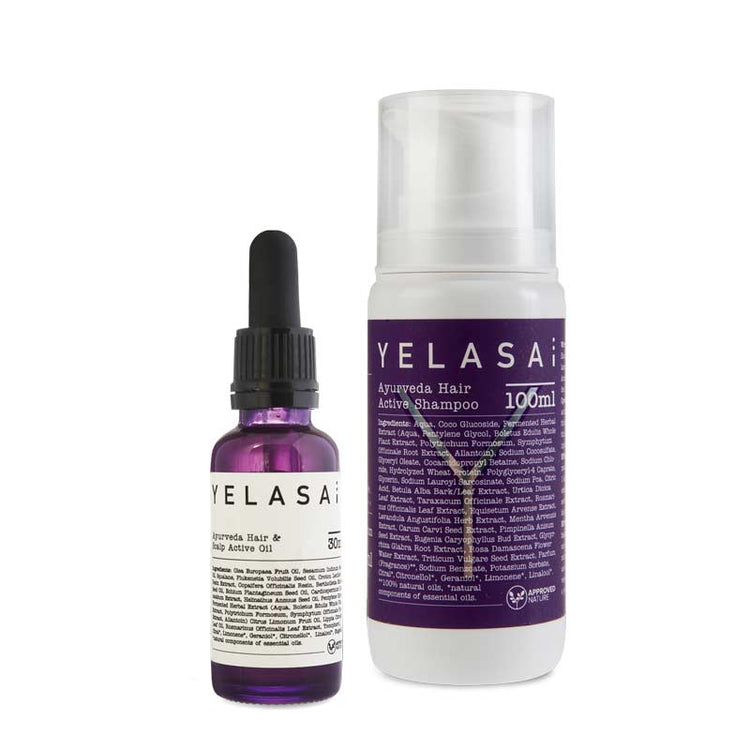 Hair problems:
For dandruff and greasy hair
General information
Description

Take care of your short hair with this small and easy to use set of shampoo and oil that complement each other perfectly. By washing the hair less, but with higher quality, the scalp and hair are less stressed. By using natural ingredients, such as hair and skin caring herbal extracts, we support the natural hair growth.

Ayurveda Hair Active Shampoo
Our Ayurveda Hair Active Shampoo is suitable for regular hair washing. Before rinsing, leave the shampoo on for 2 minutes. Of course, all our care cosmetics do not contain silicones. Your scalp and hair are gently and gently cleaned of dirt to support hair growth and normal functions of the scalp and hair.

Ayurveda Hair & Scalp Active Oil
Dandruff can have various causes. Our Ayurveda Hair & Scalp Active Oil is recommended for the care of normal to stressed scalp. The oils and herbal extracts contained nourish, cleanse and support the normal function of oil regulation. Together with Ayurveda Hair Active Shampoo you can ideally cleanse and nourish your short hair and scalp and support your hair growth.
Application

Ayurveda Hair Active Shampoo 100ml:
For short hair ½ stroke shampoo undiluted, for long hair 1 stroke diluted in 50 - 60 ml of water, spread on damp scalp and rub in gently. Leave on for 1 - 2 minutes, then rinse with clean water. Try to wash the hair only every other day or 1 - 2 times a week to support the optimal effect of Ayurveda Hair Active Tonic. The Hair Active Shampoo is also recommended for showering or washing as a substitute for conventional shower gels and soaps. The Hair Active Shampoo is very mild and therefore also suitable for children.

Ayurveda Hair & Scalp Active Oil 30ml:
Use for hair care or dry scalp, dandruff and excessive greasiness. If possible, in the evening before shampooing, apply a few drops to the sensitive areas on the scalp and massage gently or dampen the hair with a slightly wet comb and then distribute Hair & Scalp Active Oil from the scalp to the ends of the hair. Leave on for about 3 hours or overnight and wash out the next morning with Hair Active Shampoo.


ingredients

Ayurveda Hair Active Shampoo 100ml:
0

Ayurveda Hair & Scalp Active Oil 30ml:
Olea Europaea Fruit Oil, Sesamum Indicum Seed Oil, Squalane, Plukenetia Volubilis Seed Oil, Croton Lechleri Resin Extract, Copaifera Officinalis Resin, Bertholletia Excelsa Seed Oil, Echium Plantagineum Seed Oil, Cardiospermum Halicacabum Extract, Helinathus Annuus Seed Oil, Pentylene Glycol, Fermented Herbal Extract (Aqua, Boletus Edulis Whole Plant Extract, Polytrichum Formosum, Symphytum Officinale Root Extract, Allantoin) Citrus Limonum Fruit Oil, Lippia Citriodora Leaf Oil, Rosmarinus Officinalis Leaf Extract, Tocopherol, Citral, Limonene, Geraniol, Citronellol, Linalool, Eugenol. *natural components of essential oils.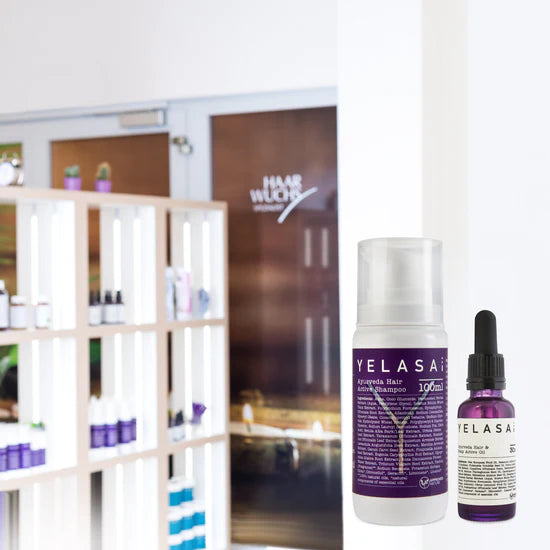 Hair care even with dandruff - Short hair
Our hair care recommendation also for dandruff on short hair.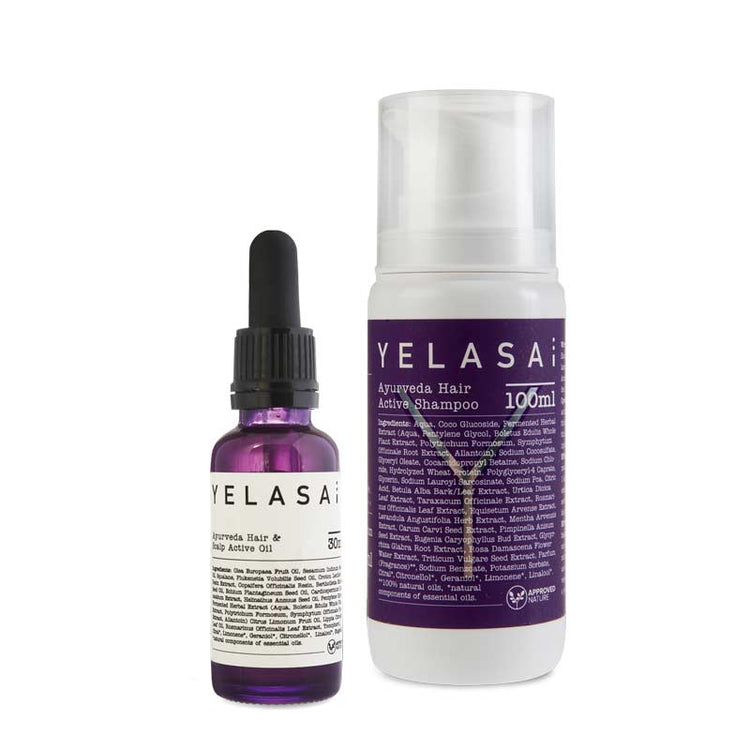 Features of all YELASAI products
Natural ingredients
Supplemented with natural fermented herbs.
No synthetic materials
No fragrances, colors, flavors or preservatives.
No risk to health
No hormones, nanoparticles or petroleum products.
Swiss quality
Carefully manufactured and tested in Switzerland.
frequently asked Questions
For which hair types is the product suitable?

Our hair care set is perfect for adults with short hair.
For which hair problems do we recommend the care product?

For dandruff and greasy hair and normal to stressed scalp.
What are the applications of the product?

Scalp and hair are optimally cared for and cleansed which supports the normal function of fat regulation and hair growth.