SKU: 1044
Hair care set also for inflammatory scalp - short hair
Regular price

Selling price

$180.74
Approved Nature
Care for inflamed scalp, itchy scalp etc.
Also suitable for children
Available immediately. In 1-3 days at your home.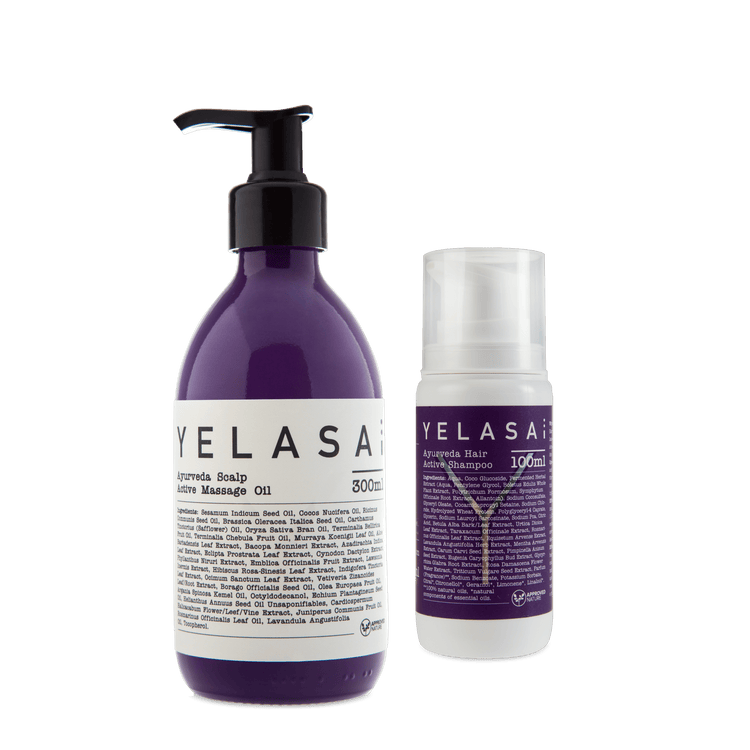 Applicable also for:
For weekly scalp and hair care, Acne, Incipient hair loss, Chemotherapy, Thin and fine hair, Inflammatory scalp, Oily hair.
Hair problems:
Inflammatory scalp, tightness and itching, as well as weeping and scaling rashes
General information
Description

An inflamed scalp can have many causes. Genetic predispositions such as neurodermatitis, food and textile intolerances, metabolic disorders and many more. Since the inflamed scalp tends to feel tight and itchy, as well as weeping and scaly rashes, appropriate and consistent care is necessary. Our specially developed care products also provide relief from these serious problems.

Ayurveda Hair Active Shampoo
The natural herbal essences contained in our shampoo have a soothing effect on the scalp and allow it to calm down. The mild and thorough cleansing of hair and scalp can reduce the washing rhythm and thus protect the scalp from additional irritation due to dehydration.

Ayurveda Scalp Active Massage Oil
The ideal combination of high quality oils and precious plant essences to gently cleanse the scalp, free it from unwanted deposits and at the same time gift it with energy and selected nutrients.
Application

Ayurveda Hair Active Shampoo 100ml:
For short hair ½ stroke shampoo undiluted, for long hair 1 stroke diluted in 50 - 60 ml of water, spread on damp scalp and rub in gently. Leave on for 1 - 2 minutes, then rinse with clean water. Try to wash the hair only every other day or 1 - 2 times a week to support the optimal effect of Ayurveda Hair Active Tonic. The Hair Active Shampoo is also recommended for showering or washing as a substitute for conventional shower gels and soaps. The Hair Active Shampoo is very mild and therefore also suitable for children.

Ayurveda Scalp Active Massage Oil 300ml:
Apply 10-15 ml of oil evenly on the scalp and massage it in. Cover and leave to act with a pleasant heat. For intensive scalp care, leave on for 30-60 minutes. Then wash out with shampoo 2 times.


Ingredients

Ayurveda Hair Active Shampoo 100ml:
0

Ayurveda Scalp Active Massage Oil 300ml:
SESAMUM INDICUM SEED OIL, COCOS NUCIFERA OIL, RICINUS COMMUNIS SEED OIL, BRASSICA OLERACEA ITALICA SEED OIL, CARTHAMUS TINCTORIUS (SAFFLOWER) OIL, ORYZA SATIVA BRAN OIL, TERMINALIA BELLIRICA FRUIT OIL, TERMINALIA CHEBULA FRUIT OIL, MURRAYA KOENIGII LEAF OIL, ALOE BARBADENSIS LEAF EXTRACT, BACOPA MON-NIERI EXTRACT, AZADIRACHTA INDICA LEAF EXTRACT, ECLIPTA PROSTRATA LEAF EXTRACT, CYNODON DACTYLON EXTRACT, PHYLLANTHUS NIRURI EXTRACT, EMBLICA OFFICINALIS FRUIT EXTRACT, LAWSONIA INERMIS EXTRACT, HIBISCUS ROSA-SINESIS LEAF EXTRACT, IN-DIGOFERA TINCTORIA LEAF EXTRACT, OCIMUM SANCTUM LEAF EXTRACT, VETIVERIA ZIZANOIDES LEAF/ROOT EX-TRACT, BORAGO OFFICIALIS SEED OIL, OLEA EUROPAEA FRUIT OIL, ARGANIA SPINOSA KE-MEL OIL, OCTYLDODECANOL, ECHIUM PLANTAGINEUM SEED OIL, HELIANTHUS ANNUUS SEED OIL UNSAPONIFIABLES, CARDIOSPERMUM HALICACABUM FLOWER/LEEF/VINE EXTRACT, JUNI-PERUS COMMUNIS FRUIT OIL, ROSMARINUS OFFICINALIS LEAF OIL, LAVANDULA ANGUSTI-FOLIA OIL, TOCOPHEROL.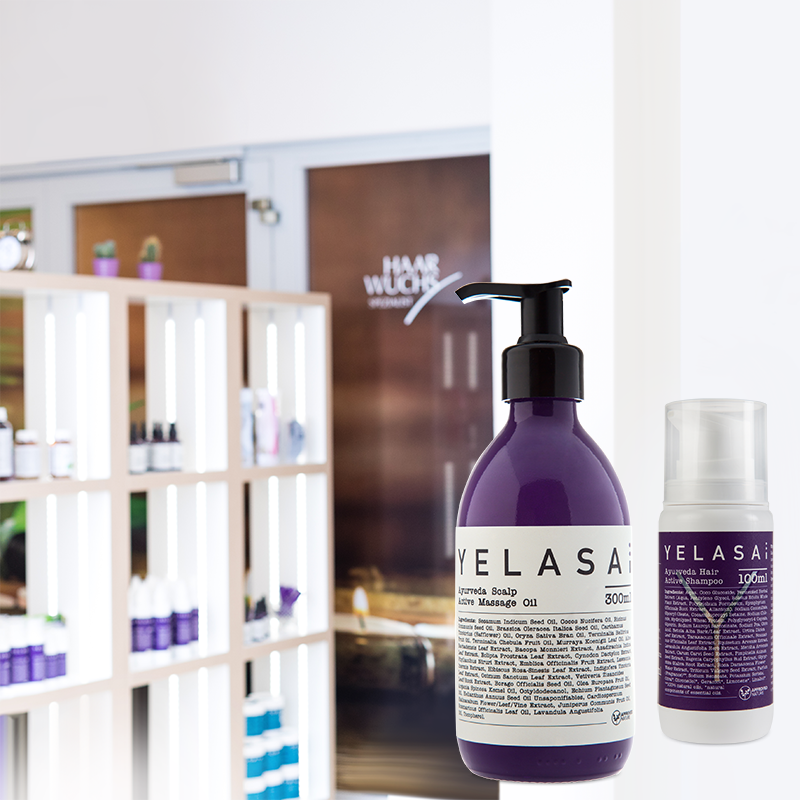 Hair care set also for inflammatory scalp - short hair
Our hair care sea recommendation for you also for inflammatory scalp and short hair.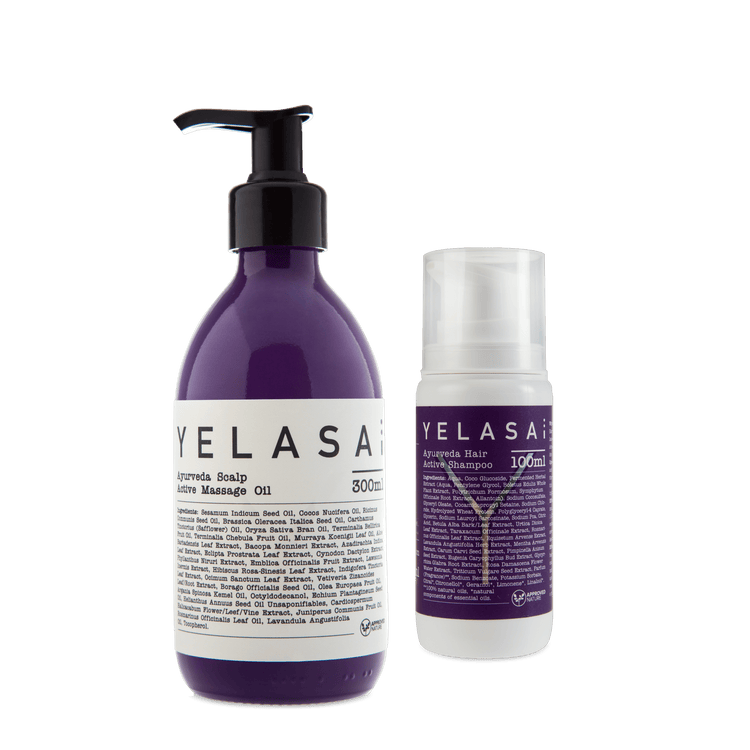 Features of all YELASAI products
Natural ingredients
Supplemented with natural fermented herbs.
No synthetic substances
No fragrances, colors, flavors and preservatives.
Harmless to health
No hormones, nanoparticles or petroleum products.
Swiss quality
Carefully manufactured and tested in Switzerland.
Frequently asked questions
FOR WHICH HAIR TYPES IS THE PRODUCT SUITABLE?

Our care set for you is suitable for children, teenagers and adults.
FOR WHICH HAIR PROBLEMS DO WE RECOMMEND THE CARE PRODUCT?

Active scalp and hair care is also recommended for inflammatory scalp.
WHAT ARE THE APPLICATIONS OF THE PRODUCT?

Use the Ayurveda Scalp Active Massage Oil every 2 days and gently spread it on the scalp. Let it nourish the scalp for 20-60 minutes and then wash your scalp and hair with our Ayurveda Hair Active Shampoo.