SKU: 1048
Hair care set also for severe psoriasis - short hair
Regular price

Selling price

$223.95
Approved Nature
Care for dandruff and hair loss
Moisturize and oil scalp
Available immediately. In 1-3 days at your home.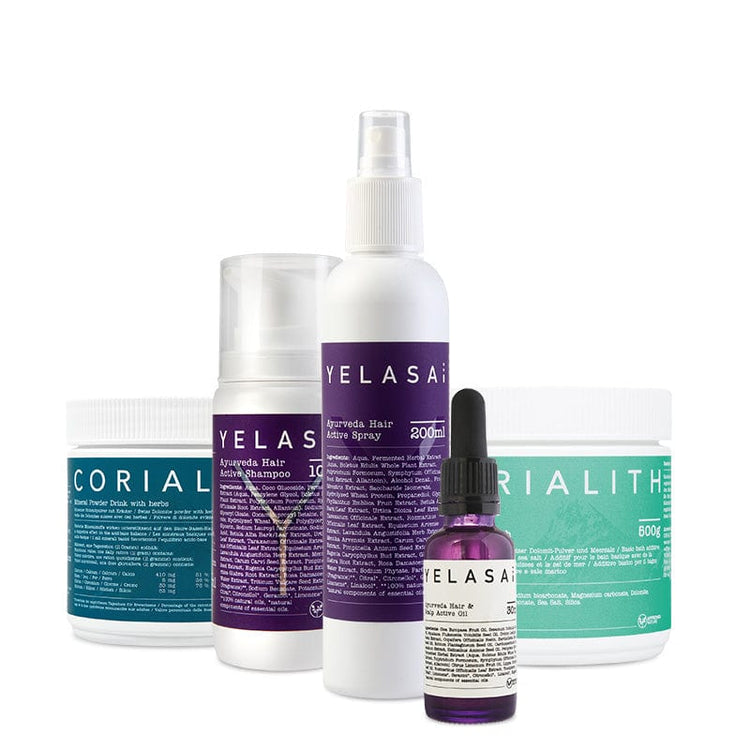 Hair problems:
In case of psoriasis or first symptoms like strongly scaling and partly itching skin areas
General information
Description

Psoriasis belongs to the group of autoimmune diseases and can affect all skin areas of the body. The symptoms, such as dry, heavily scaling and sometimes itchy skin areas, can be alleviated with special care. If the scalp is severely affected, excessive scaling can lead to increased hair loss. This is particularly unpleasant with short hair, because very thin or even bald patches can form and the problem thus becomes visible. Therefore, it is important to care for the scalp with moisture and oils in the long term to counteract the formation of dandruff and prevent hair loss.

Ayurveda Hair Active Shampoo
To counteract additional dehydration of the scalp resulting in severe dandruff, reduce your washing rhythm and use our Ayurveda Hair Active Shampoo. The mild shampoo gently cleanses hair and scalp without irritating and efficiently removes dandruff. The natural ingredients and herbs have a soothing effect on the scalp and can give a supportive effect in relieving itching.

Ayurveda Hair & Scalp Active Oil
Especially in cases of severe psoriasis, it is important to prepare the scalp for the morning hair wash and to loosen the dandruff in advance so that the scalp and hair can be thoroughly cleaned during the subsequent hair wash. Apply our Ayurveda Hair & Scalp Active Oil to the scalp in the evening before shampooing and massage in the nourishing oil. You can protect bed and night clothes from dirt by putting on our special head cap. The next morning, use our Ayurveda Hair Active Shampoo to thoroughly wash the detached dandruff from your hair and scalp. To do this, leave the shampoo on for 2 minutes.

Ayurveda Hair Active Spray
Spray our Ayurveda Hair Active Spray 2 times a day on your scalp and thereby supply targeted moisture and minerals. You will feel the pleasant effect immediately.

CORIALITH - Mineral Base Drink
With our CORIALITH - Minerals Alkaline Drink you can take an alkaline drink to support the entire metabolism. The minerals contained in it supportively contribute to the normal activity of skin, hair and nails.

CORIALITH - Alkaline Bath
In cases of severe psoriasis, the skin all over the body may be affected and as a result generalized hair loss may occur. To cleanse the skin alkaline, we recommend nourishing alkaline baths. Our Corialith Alkaline Bath cleanses and nourishes your skin. The nutrients support the skin in its natural function and can thus contribute to stimulating hair growth.
Application

Ayurveda Hair Active Spray 200ml:

2x daily: After the Hair Active Tonic drops with Hair Active Spray slightly moisten the hair or scalp again. Thus, the care substances penetrate better into the skin. The effect can be further improved by spraying Hair Active Spray several times a day. Shake before use

Ayurveda Hair Active Shampoo 100ml:

For short hair ½ stroke shampoo undiluted, for long hair 1 stroke diluted in 50 - 60 ml of water, spread on damp scalp and rub in gently. Leave on for 1 - 2 minutes, then rinse with clean water. Try to wash the hair only every other day or 1 - 2 times a week to support the optimal effect of Ayurveda Hair Active Tonic. The Hair Active Shampoo is also recommended for showering or washing as a substitute for conventional shower gels and soaps. The Hair Active Shampoo is very mild and therefore also suitable for children.

Ayurveda Hair & Scalp Active Oil 30ml:

Use for hair care or dry scalp, dandruff and excessive greasiness. If possible, in the evening before shampooing, apply a few drops to the sensitive areas on the scalp and massage gently or dampen the hair with a slightly wet comb and then distribute Hair & Scalp Active Oil from the scalp to the ends of the hair. Leave on for about 3 hours or overnight and wash out the next morning with Hair Active Shampoo.

CORIALITH - Drink 250g:

Recommended daily ration: Dissolve 2 scoops (2 grams) in a shaker with 2-3 dl of water and drink. Or drink one scoop in the morning and one scoop in the evening mixed with 2-3 dl of water.
Do not mix with metal spoon, but with plastic or wooden spoon.
Do not use metal shaker (metal inhibits ionization).
Drink enough water! Around 1 liter per 25kg body weight.
Can lasts about 125 days with normal use.
Swiss dolomite powder with herbs
Nutritional value, one daily ration (2 grams) contains:

Swiss dolomite powder with herbs

Nutritional value, one daily ration (2 grams) contains:

| | | |
| --- | --- | --- |
| Calcium | 410 mg | 51 % * |
| Iron | 5 mg | 36 % * |
| Chromium | 30 | 76 % * |
| Silicon | 52 mg | 26 % * |

*Percentage of the recommended daily dose for adults

Food supplement with alkaline minerals and herbs

CORIALITH - alkaline bath:

Dissolve CORIALITH alkaline powder in warm water at 37° - 39°C. Bath duration 20 - 120 minutes, For a full bath 2 tbsp. spread, for a foot and seat bath ½ tbsp. Do not use a metal spoon, but the enclosed plastic spoon. Can lasts for about 50 full baths. The pH value is around 8.5. TIP: Also suitable for peelings, steam baths, sauna sessions, alkaline wraps, etc.
Ingredients

Ayurveda Hair Active Spray 200ml:
0

Ayurveda Hair Active Shampoo 100ml:
0

Ayurveda Hair & Scalp Active Oil 30ml:
Olea Europaea Fruit Oil, Sesamum Indicum Seed Oil, Squalane, Plukenetia Volubilis Seed Oil, Croton Lechleri Resin Extract, Copaifera Officinalis Resin, Bertholletia Excelsa Seed Oil, Echium Plantagineum Seed Oil, Cardiospermum Halicacabum Extract, Helinathus Annuus Seed Oil, Pentylene Glycol, Fermented Herbal Extract (Aqua, Boletus Edulis Whole Plant Extract, Polytrichum Formosum, Symphytum Officinale Root Extract, Allantoin) Citrus Limonum Fruit Oil, Lippia Citriodora Leaf Oil, Rosmarinus Officinalis Leaf Extract, Tocopherol, Citral, Limonene, Geraniol, Citronellol, Linalool, Eugenol. *natural components of essential oils.

CORIALITH - Drink 250g:
0

CORIALITH - alkaline bath:
0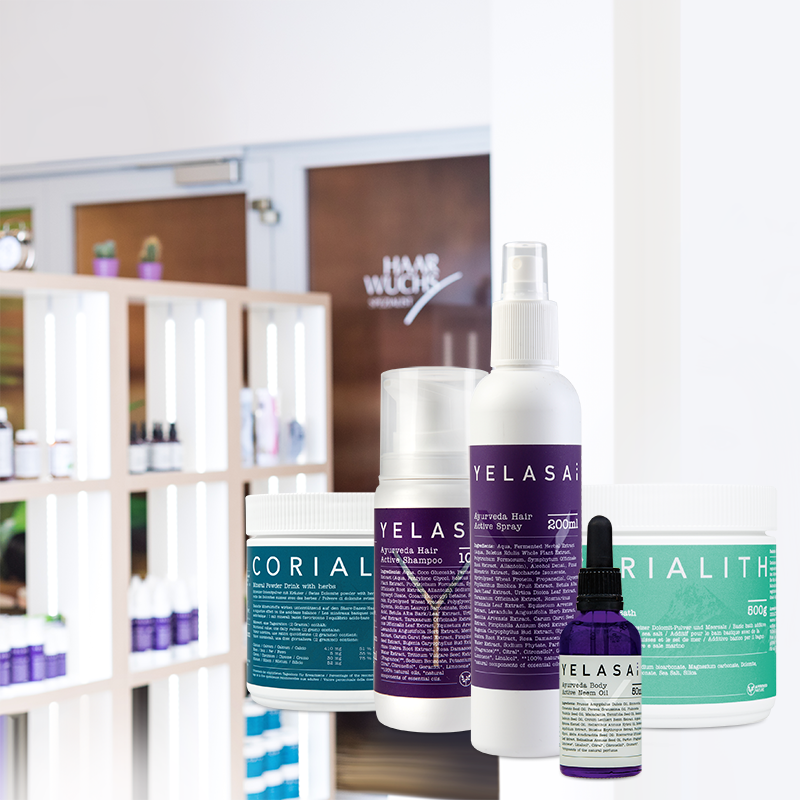 Hair care set also for severe psoriasis - short hair
Our hair care sea recommendation also for severe psoriasis and for short hair.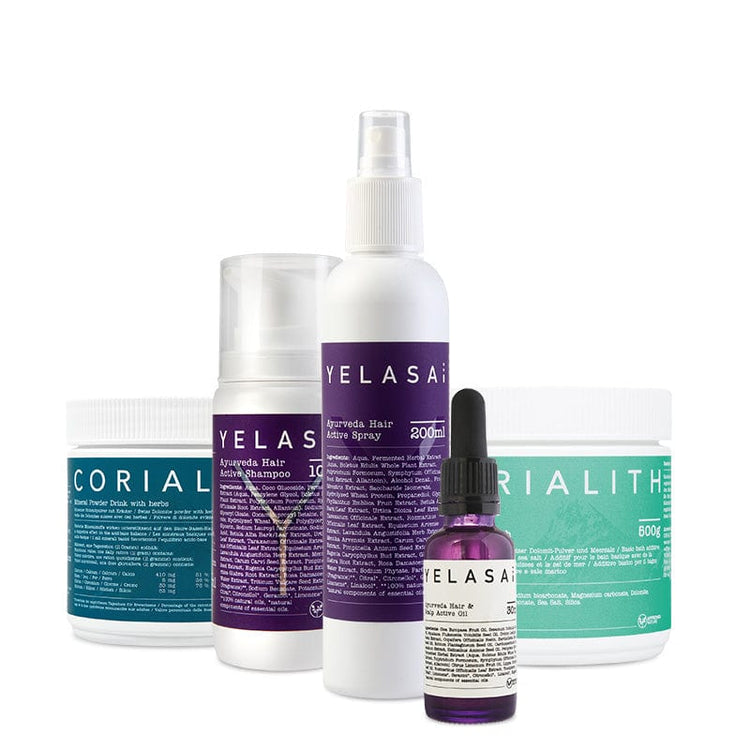 Features of all YELASAI products
Natural ingredients
Supplemented with natural fermented herbs.
No synthetic substances
No fragrances, colors, flavors and preservatives.
Harmless to health
No hormones, nanoparticles or petroleum products.
Swiss quality
Carefully manufactured and tested in Switzerland.
Frequently asked questions
For which hair types is the product suitable?

Our care set is perfectly suitable for children, as well as for adults with short hair.
For which hair problems do we recommend the care product?

For scalp and hair care even with sensitive skin issues such as psoriasis or first symptoms such as very scaly and sometimes itchy skin.
What are the applications of the product?

Can also be used for sensitive scalp such as psoriasis, very scaly and itchy skin.