SKU: 1024
Natural skin care
Regular price

Selling price

$128.66
Approved Nature
Supply with nutrients
Beautiful and soft skin
Available immediately. In 1-3 days at your home.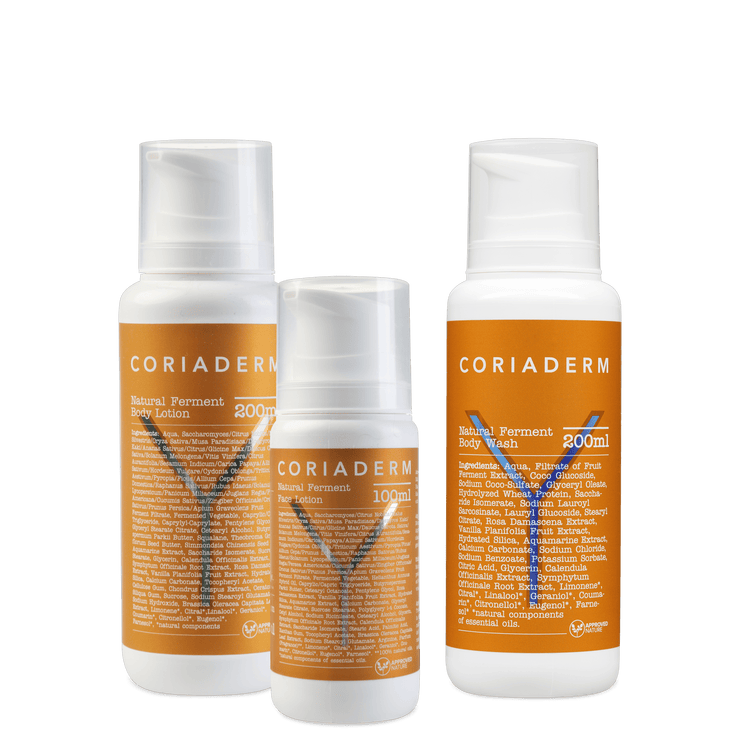 Applicable to:
Normal skin care also for neurodermatitis
Hair types:
Suitable for any skin type
General information
Description

Nourishing care with natural ferments from fruits and vegetables combined with high-quality plants and mineral extracts. CORIADERM is quickly absorbed into the skin and provides long-lasting suppleness.
Application

For daily skin care CORIADERM Natural Ferment Face Lotion 100ml:
Apply in the morning and/or evening on cleansed skin of the face and neck, massaging gently.

CORIADERM Natural Ferment Body Lotion 200ml:
After showering, spread the lotion on the dried body and gently massage.

CORIADERM Natural Ferment Body Wash 200ml:
Lather on damp skin and then rinse well.


Ingredients

CORIADERM Natural Ferment Face Lotion 100ml:
0

CORIADERM Natural Ferment Body Lotion 200ml:
0

CORIADERM Natural Ferment Body Wash 200ml:
0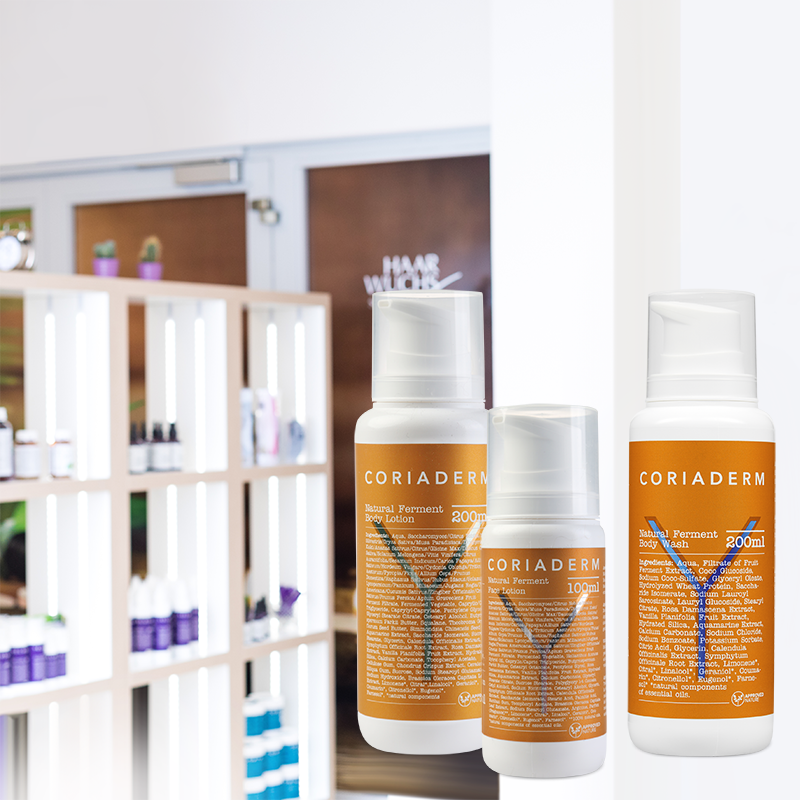 With 41 natural ingredients extracted from various fruits, vegetables and grasses and subjected to a three-year fermentation process, we provide conscious, valuable care for your skin.
The rich CORIADERM care consists of Body Wash, Body Lotion and Face Lotion with valuable minerals for the recovery of stressed skin! For more vitality and resilience to face everyday life full of energy.
CORIADERM Natural Ferment offers a pleasant skin feeling and a wonderfully delicate fragrance from natural oils - indulge your senses and treat yourself to the natural difference.
For a healthy, radiant complexion.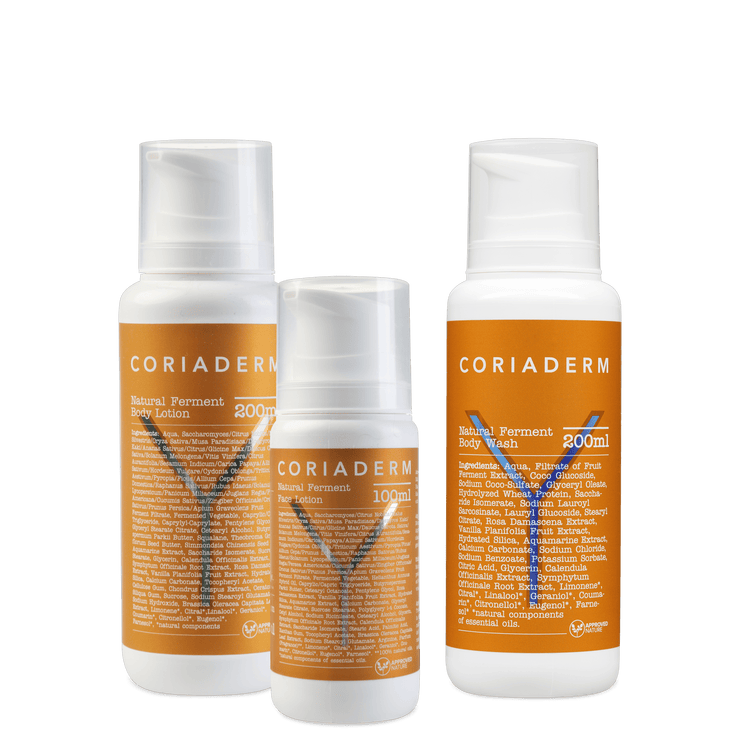 Features of all YELASAI products
Natural ingredients
Supplemented with natural fermented herbs.
No synthetic substances
No fragrances, colors, flavors and preservatives.
Harmless to health
No hormones, nanoparticles or petroleum products.
Swiss quality
Carefully manufactured and tested in Switzerland.
Frequently asked questions
FOR WHICH HAIR TYPES IS THE PRODUCT SUITABLE?

Coriaderm is suitable for children, adolescents and adults.
FOR WHICH PROBLEMS DO WE RECOMMEND THE CARE PRODUCT?

The care line is a nourishing skin care for every skin type. The care line can also be used for sensitive skin issues such as neurodermatitis.
WHAT ARE THE APPLICATIONS OF THE PRODUCT?

The Body Wash we recommend for gentle cleansing of your skin. The Body Lotion we recommend for the care of the body after cleansing. The Face Lotion provides mild care for your facial skin.